Half height decorative protection door panel
Application
These half-door claddings protect and bring a touch of originality. This two-colour range provides visual help by using floor, department, service or section colour schemes, very useful in accessibility process.
Description
• Model: two-color protection and covering masks with cut-to-size panel
• Height: 1200 mm
• Width: 930 or 1230 mm
• Thickness: 2 mm
• Material: antibacterial PVC
• Surface finish: slightly textured
• Fixing: adhesive bonding with acrylic glue or multipurpose adhesive sealant
• Colours: 32 colour.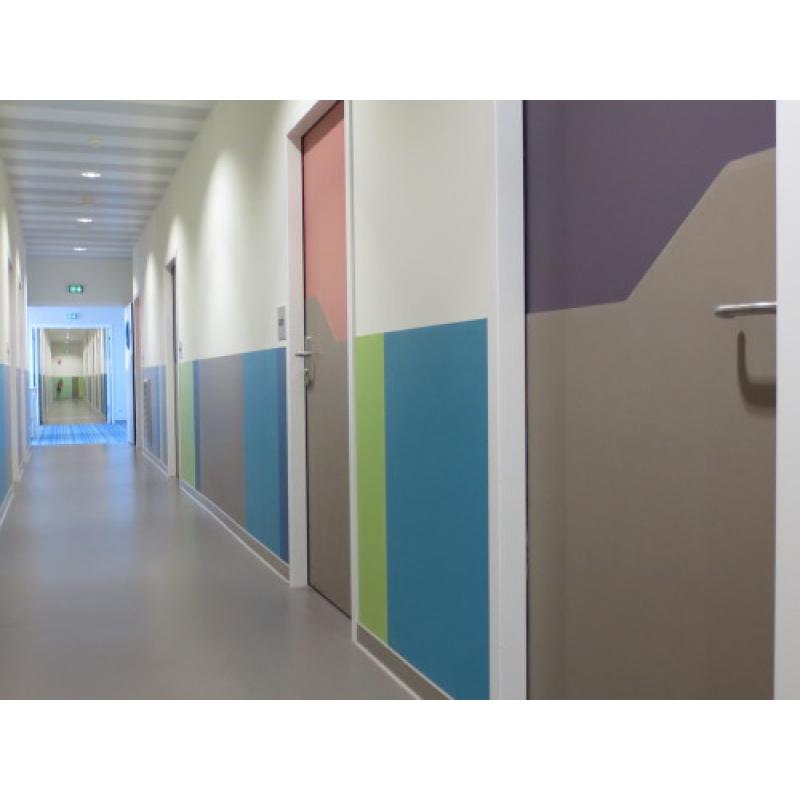 Specifications
Description:
Half-height decorative two-color door protection from rigid and antibacterial PVC achieving Bs2d0 fire rating and slightly textured surface. Width 930 or 1230 mm, height 1200 mm, 2 mm thick.
• Environment:
No heavy metals are used in its manufacture. The emission level of volatile substance in inside air has been tested according to ISO 16000-6 and is very low. 100% of the product are recyclable.
• Colour:
Selected by architect from manufacturer's standard range.
• Installation method:
Glue as per manufacturer's instructions.
Colors Apricot 0022
Wicker 0007 Ultramarine 0019 Straw 0021 Slate 0033 Sienna 0009

Schicst 0005 sand 0008 Poppy 0028 Pebble 0011 Melon 0027
Meadow 0023 Magnolia 0034 Lavender grey 0015 Ivory 0006 Iris 0030 Greige 0012 Pebble 0011 Granite 0004 Glacier 0016 Garnet 0029 Flint 0032 Emerald 0025 Denim 0020 Cinnamon 0014

Chalk 0001 Bluebell 0017 Basalt 0036 Bark 0010 Bamboo 0024 Alum 0031 Azur 0018