ergonomic trilobed handrail
Applications
Developed with the help of architects and designers,
the Linea'Touch handrail combines design, ergonomics and extreme impact resistance.
Its exclusive trilobed shape provides an excellent grip while protecting the walls effectively and discreetly.
Thanks to its large choice of accessories and colours
for endless combinations.
Linea'Touch can be used in all public areas,
delivering aesthetic harmony from light to heavy
traffic areas: hospitals, clinics, retirement homes,
hotels, public buildings, offices.
It can be bent and provides various technical
solutions for continuity in staircases and in front of
service ducts. It is fitted with bactericidal joints.
Description
• Model: Linea'Touch engonomic trilobed handrail
• Cross section: height 42 mm x width 40 mm
• Length: 4 m
• Overall Projection: 80 mm (90 mm on request)
• Stand-off frow wall: 40 mm (50 mm on request)
• Material: antibacterial PVC with continuous aluminium
profile.
• Fixing components: refined 2 point self-locking aluminium brackets, silver anodised effect, screwed to the wall every 1.20 m.
• Colours: 32 standard (6 standard and 26 colours on request).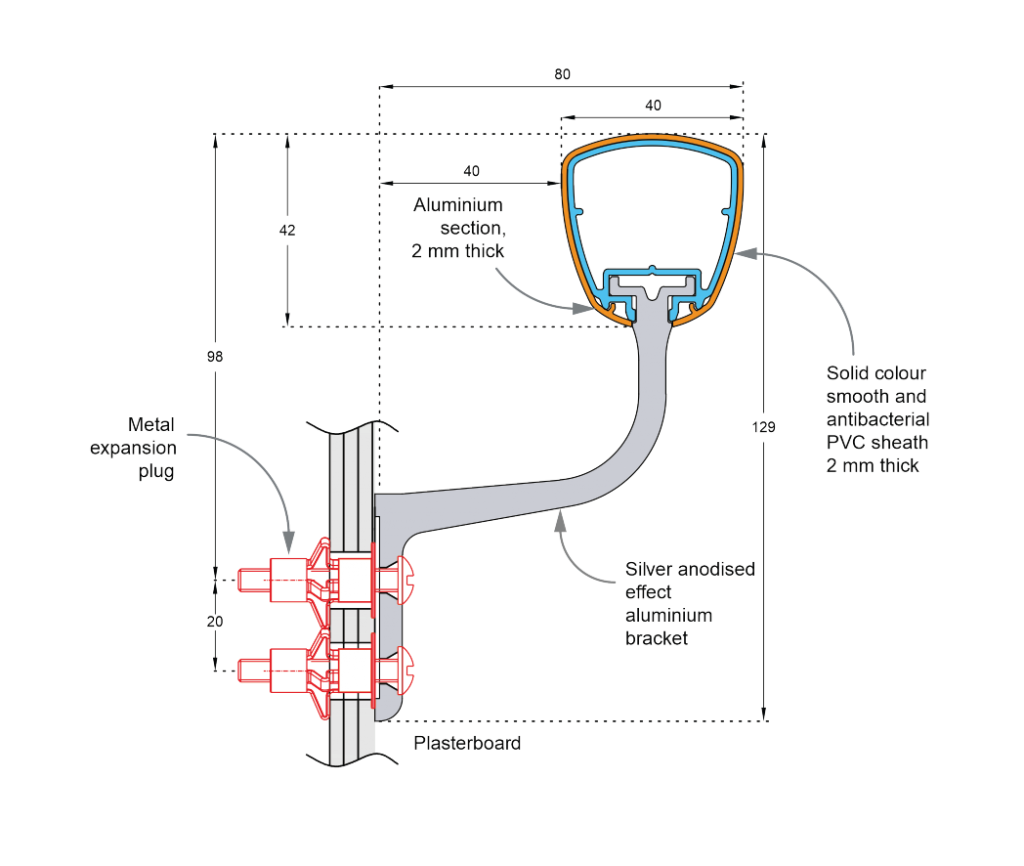 Specification
• Description:
Trilobed handrail with antibacterial PVC sheath with a cross section from 28 to 40 mm to give it an ergonomic and anti-rotation design. It is 42 mm high and projects 80 mm from the wall. The axial position of its brackets provides an excellent guiding. It consists of a 2 mm thick continuous aluminium profile, or a 5 mm one for the reinforced version, covered by a 2 mm thick smooth and antibacterial, PVC sheath, with solid colour, and a closer underneath.
Various smooth and antibacterial ABS accessories with solid colour (flat or bevelled endcaps, classic or extended and curved wall returns), supplied with bactericidal joints, are available to finish the handrail assembly and connect to the profile with joiner pieces. Wall fixing is by silver anodised effect aluminium brackets with 2-point self-locking: 20 mm wide refined
bracket.
The section comprises a groove into which brackets,
accessories and closer slide and lock.
All technical solutions are available to ensure continuity
around corners (90° or made-to-measure), in staircases, across service ducts.
These handrails achieve an impact resistance in excess of 70 Joules -i.e.
an impact of more than 220 kg travelling at 2 kmh- (for
Linea'Touch).
• Environment: no heavy metals and no substance
potentially subjected to any REACH restriction are used
in its manufacture, nor PBT/BPA.
• Colour: selected by architects from manufacturer's
standard range. The colours of the accessories are the
same as the profile of the protection handrail.
• Installation method: upper edge of section 0.90 m
max. above floor level. Fixes to 2-point self-locking
aluminium brackets screwed to the wall at 1.20 m
centres (0.80 m centres in heavy traffic corridors and on
light partitions like plasterboard). Wall returns, endcaps
and angles to be fixed with 2.5 mm Allen clamping screws.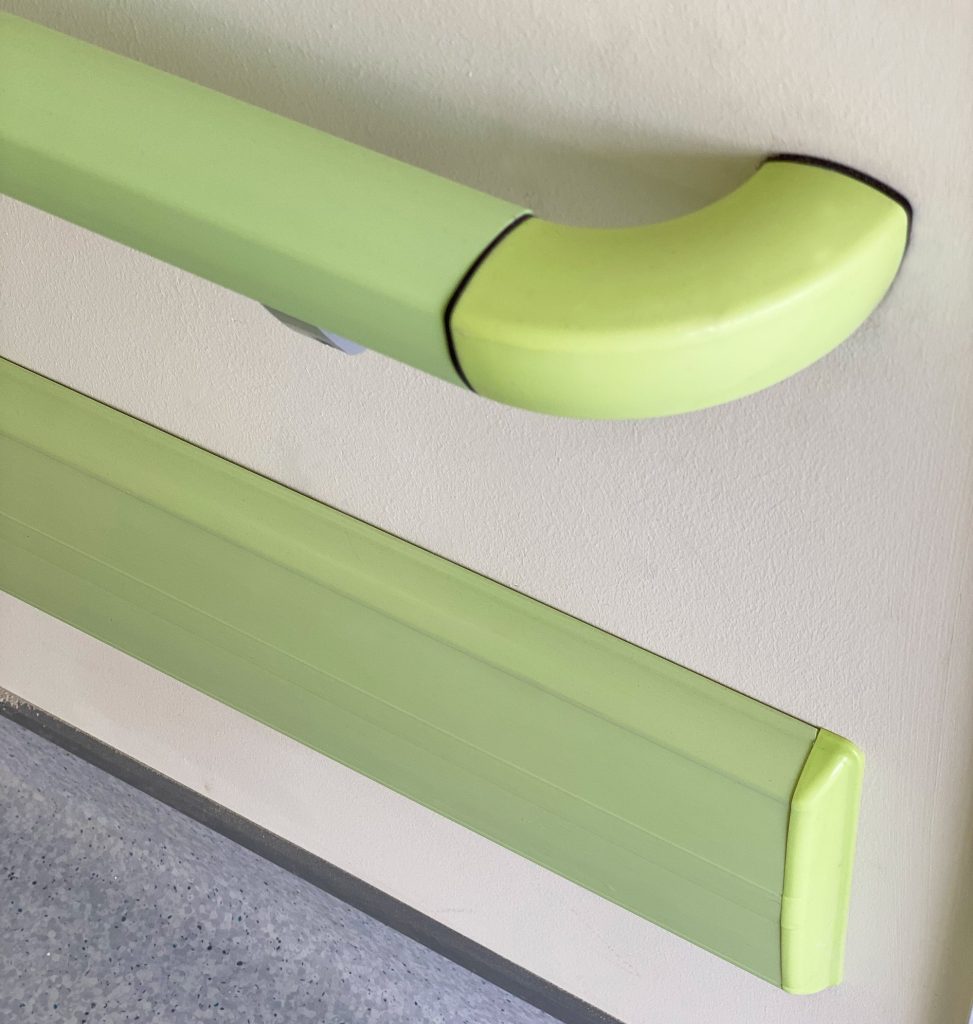 Colors Apricot 0022
Wicker 0007 Ultramarine 0019 Straw 0021 Slate 0033 Sienna 0009

Schicst 0005 sand 0008 Poppy 0028 Pebble 0011 Melon 0027
Meadow 0023 Magnolia 0034 Lavender grey 0015 Ivory 0006 Iris 0030 Greige 0012 Pebble 0011 Granite 0004 Glacier 0016 Garnet 0029 Flint 0032 Emerald 0025 Denim 0020 Cinnamon 0014

Chalk 0001 Bluebell 0017 Basalt 0036 Bark 0010 Bamboo 0024 Alum 0031 Azur 0018
Downloads
How To Install