LED HANDRAILS
The new Linea'Touch LED handrail is designed to
with our partner architects and validated by
ergonomists, the Linea'Touch LED handrail
provides an excellent handgrip while protecting walls
effectively and now offers a user guiding system thanks to integrated lighting.
Ideal in hospitals, clinics, retirement homes,
establishments for people with disabilities,
performance venues, hotels, offices, etc., the LED handrail provides comfort and safety for your users and staff, along with design and aesthetics for your establishment.
With Linea'Touch LED, create your customized ambiance, for each area, department or floor.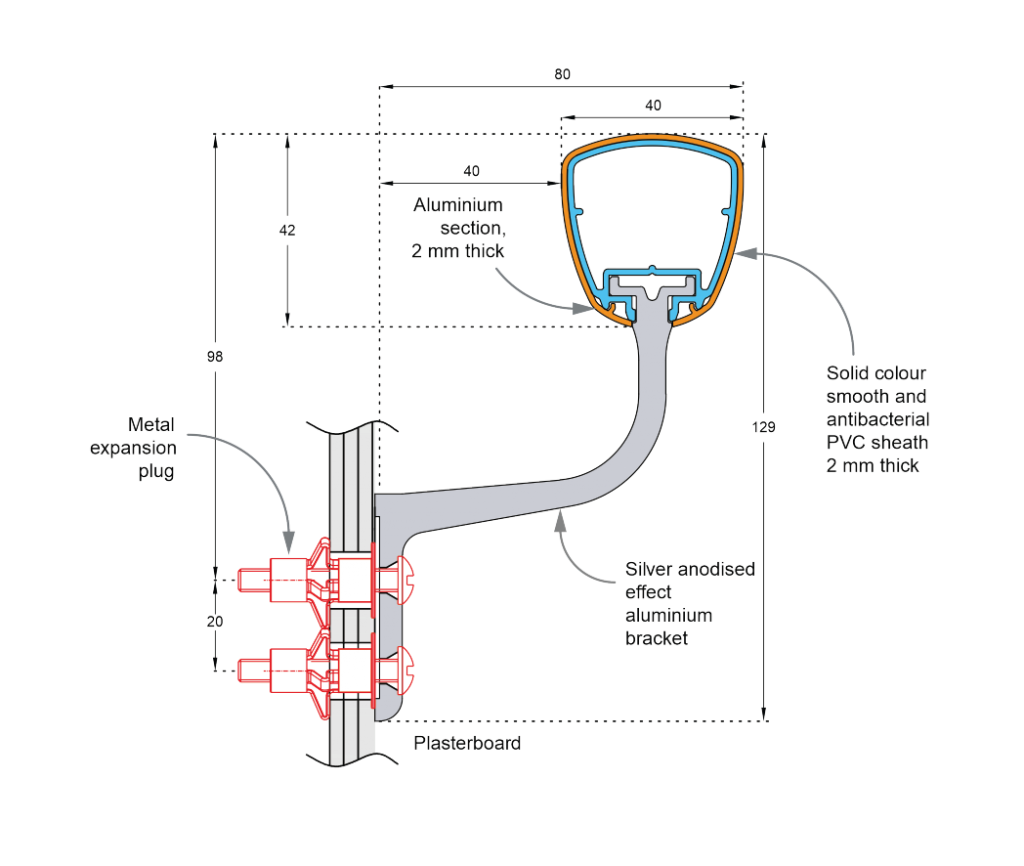 Operation
The Linea'Touch LED handrail operates with a 24 VDC
60 W power supply box for a maximum handrail length
of 8 meters.
Operation
The internal/external angle pieces have an integrated
power cable for connection with the LED bands.
The power supply can be placed in a false ceiling
or electrical cabinet for easier maintenance (intervention by an electrician is recommended). A switch, programmer or proximity sensor can be associated
with the handrail.
Description
Length: 4 m Overwall Projection: 80 mm Stand-off from wall: 40 mm Fixing components: 2 points quick removable assembly self-locking 55 mm bugled bracket in silver anodised effect aluminium,
screwed to the wall every 0.80 m LED band: 5 meters
Colour filter: choose from available colours
title
Colors Apricot 0022
Wicker 0007 Ultramarine 0019 Straw 0021 Slate 0033 Sienna 0009

Schicst 0005 sand 0008 Poppy 0028 Pebble 0011 Melon 0027
Meadow 0023 Magnolia 0034 Lavender grey 0015 Ivory 0006 Iris 0030 Greige 0012 Pebble 0011 Granite 0004 Glacier 0016 Garnet 0029 Flint 0032 Emerald 0025 Denim 0020 Cinnamon 0014

Chalk 0001 Bluebell 0017 Basalt 0036 Bark 0010 Bamboo 0024 Alum 0031 Azur 0018
Matrial
Downloads